Some Of The Best Christmas Decor On Amazon
Its almost holiday season and honestly, I don't blame you if you want to get a head start on gathering Christmas decor ideas. Its always better to plan before to avoid all the last minute hustle bustle of gift shopping, party planning and general chaos. Some of the best Christmas decorations are on Amazon, get your hands on them before they sell out.
From winter candles to cozy throws that'll make binging holiday movies in your nightwear or christmas sweaters to seriously cute mini Christmas trees. Amazon has it all. Because it's the season to give, I've spared you the pain of browsing through pages and pages of holiday decor. Below you'll find only the best Christmas decorations you want to have on display year after year.
1. Fluffy Rug
A big, fluffy white rug is the best way to get all winter wonderlandy this Christmas. Put a Christmas tree on it or set it up in front of the couch. Best part is you can leave it all through out the year.
WHERE TO BUY: 5'X7′ Rug for $99
2. Artificial Mini Christmas Tree
These cute mini Christmas tree comes in a pack of 24. This means that you can either go all out on decorating your house or take some to your work and decorate your desk with it.
WHERE TO BUY: Table top Christmas tree for $19
3. Knit Throw Blanket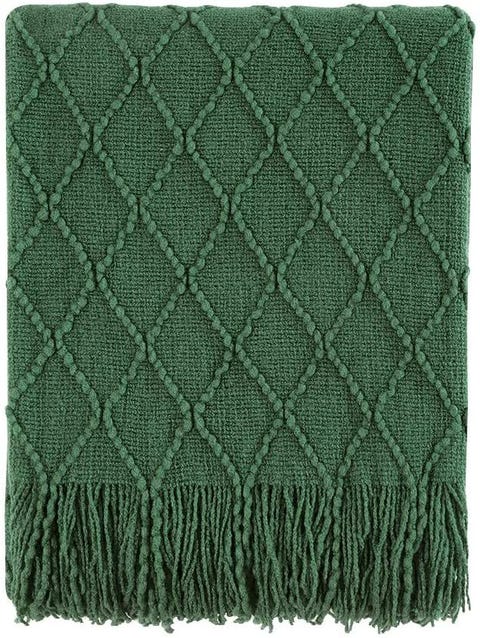 You know you're gonna need a throw blanket to snuggle up while binging Christmas movies in your jammies all season long. This evergreen knit throw is just not just decorative but also very useful.
WHERE TO BUY: Bourina Throw Blanket for $24
4. Cosy Scented Candle
Imagine entering your living room smelling of cedar and balsam, divine right? Feel festive with a nice cosy scented candle aroma.
WHERE TO BUY: La Jolie Muse Scented Candle $20
5. Light-Up Birch Trees
Give a festive make over to your window sill or the fireplace. Set up one (or two!) of these lit birch trees on it for a warm and festive glow next to a photo frame and a scented candle.
WHERE TO BUY: Peiduo 24″ Light Birch Tree $18
6. Lighted Olive Garland
Want to decorate your living room to keep up the Christmas spirit but not so creative? Well guys, if you're anything like me, simple decor elements is your saviour. This lighted olive garland is going to be your saviour. Put it across the fireplace or on the dining table, and yay you're done!
WHERE TO BUY: Litbloom Birch Garland $37
7. Flameless Candles
We all know how candles instantly step up the area. Dim lighting and candles is definitely my favourite festive look. These flameless candles just make things better, you can leave them unattended without being worried about the house burning down!
WHERE TO BUY: Flameless Candles $18
8. Christmas Snowflake Projector Lights
Do you really want to stand out on your Christmas Decor? Use this Christmas snowflake projector lights. Find a plain wall in your house and project it on it. Its just the perfect decor element for Christmas isn't it?
WHERE TO BUY: Christmas Snowflake Projector Light
9. Silver Mini Lanterns
Planning to do a DIY tables cape for the grand Christmas party? Get your hands on these cute little silver mini lanterns to make your table setting look really grand.
WHERE TO BUY: Silver Mini Lanterns $27
10. Fairy Lights
If you can't think of any decor then these fairy lights are going to be your saviour. These lights instantly make the whole place look absolutely beautiful.
WHERE TO BUY: Fairy Lights $16 for pack of 12
Also Read: